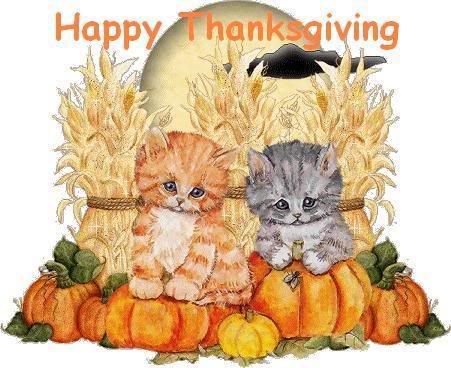 I hope everyone has a Happy Thanksgiving. I have to admit that this one is a little tough for me. It's hard to think that last year, My Mom, Kathy, My Dad, and the rest of the family were all together. Now, 2 of those people are gone, suddenly, with in the year. It has been very hard to be thankful. I was able to come up with a couple of thngs, though, which shows that no matter how bleak things look, there is always light at the end of the tunnel.
I am thankful for the good health of my family. Aside from some aches and pains, everyone remaining seems to be in good shape. I am thankful for my friends and family who put up with me during the year. I slip in and out of depression and they still understand. (Or pretend, I don't know, LOL) I am thankful for the upcoming birth of my granddaughter. This has been the one thing that has pulled me through these dark days. The promise of a new life. And I am thankful for the internet. I have found a place to put my feelings, share my outlook on art, and found some friends who understand the ups and downs of trying to be a better person.
All in all, things aren't so bad. Different, but not bad.