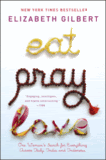 I started reading this last night and I am jealous. I want to have this kind of adventure. The writer goes and spends 4 months in Italy, 4 months in India, and 4 months in Indonesia. I have just started it, but I can tell it's gonna be very enlightning for me.
Is it possible that I'm having some kind of mid-life crisis? I mean, I don't have this crazy urge to buy a red sports car, or trade in my hubby for a 20 something stud, or buy hair plugs, but something is definetly off kilter. I am restless, i feel like I should be on the edge of this great ephiphany in my life or some religous clarity should be hitting me right between the eyes but nothing is happening.
I feel like I am wasting my life. These are the things I am thinking right now:
1-I hate my job right now.
2-I am not liking hubby very much right now.
3- I feel tied down to my life.
4- I feel guilty for not being there more for my parents.
5- I feel guilty for not being there for my friends.
6- I wish I could get in my car and drive away and not worry about the consequences.
7- I feel that at this point in my life, I should be able to make decisions based on my wants and needs and not because it is safe or it's expected or it's not realistic.
I AM TIRED. I AM EXHUASTED. I AM TIRED OF NOBODY EVER THINKING ABOUT WHAT I NEED.
I need hair plugs!!!!